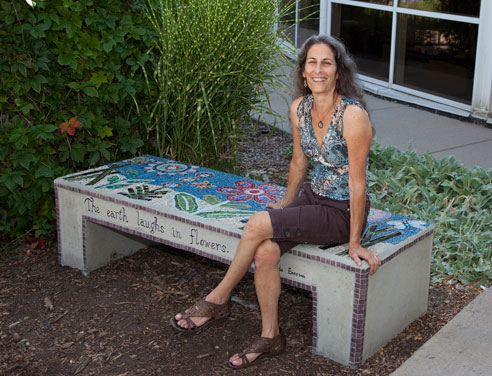 I combine hundreds and hundreds of tiny cut pieces to create a much bigger and much greater whole. I unite hundreds and hundreds of tiny cut pieces, the arbitrary and the varied, the airy bits of ephemera, the permanent chunks of stone and gem, the shiny slices of mirror and glass, the natural and the human-made. I paint with hundreds and hundreds of tiny cut pieces that are joined together into a larger expression of texture, space, line, and color: the hundreds and hundreds of tiny cut pieces that eventually become a piece of my mosaic art.
For more than twenty years my primary focus has been a dedication to reducing waste and consumption by recovering, reclaiming, redesigning, repurposing and reusing the used, but not used up. I transform upcycled materials into renewed treasures with my contemporary approach to the ancient art of mosaics. Musical instruments, the human figure, broken shovels, shoes, hats, stove pipes and even hubcaps…anything can be a starting point for my work. Salvaging and working with castoffs and discards, my art is often whimsical in appearance, but always thoughtful in its environmental message.
plain jane design…anything but plain…contemporary reclaimed mosaic fine art and design for public and private spaces… commissions most welcome
please click to watch this video about my philosophy, process and inspiration: A Day in the Life of Jane Glotzer.
Galleries
where you can purchase my work
R Gallery
featured artist
2027 Broadway
Boulder, CO 80302
Open Studios Pop! Gallery
11th street just south of Pearl Street mall
Boulder, CO 80302
Western Stars Gallery & Studio
160 E. Main Street
Lyons, CO 80540
To purchase directly from Jane – click here.
Professional Memberships
Boulder County Arts Alliance
Boulder, CO
Colorado Mosaic Artists
past co-president 2018-2020
past secretary/treasurer 2016-2018
Foothills Art Center
Golden, Colorado
NoBo Art District
Boulder, Colorado
Open Studios Boulder
former member
Boulder, Colorado
2023
Lost and Found: Art with Found Objects
The Collective Community Arts Center
Lafayette, CO
June – August 2023
Boulder Open Studios member show
Niwot Cultural Arts Association
Niwot, CO
June/July 2023
NOW: Colorado Creatives Unleashed
R Gallery
April – June 2023
Sustainable Mosaics
Colorado Mosaic Artists group show
Lakewood Art Council Gallery
Lakewood, CO
April 2023
NoBo Art District member show
Bus Stop Apartments Gallery
Boulder, CO
April 2023
Finely Crafted
Core Art Space
Lakewood, CO
January/February 2023
Breaking (Not) Bad
Gallery of Contemporary Mosaics
Chicago, IL
November 2022 – January 2023
^ top
2022
Vessels
Dairy Art Center
Boulder, CO
December 2022, January 2023
Key Artist Show
R Gallery
Boulder, CO
October, November 2022
Outside of the Box: a fresh interpretation of the ancient art of mosaic
Colorado Mosaic Artists group show
Parker Arts Center
Parker, CO
October, November 2022
As Seen Through New Eyes
Foothills Art Center
Golden, CO
July-August 2022
Juror's Award
NoBo Art District Pop up Show
for Boulder Arts Week
Amazing Gararge Sale
Boulder, CO
April 2022
Let It Pop!
R Gallery
Boulder CO
March, April 2022
Travel and Adventure
Colorado Mosaic Artists group show
Lafayette Library
Lafayette, CO
March, April 2022
Visiting Mosaic Artist at Watershed School
Boulder, CO
February 2022
Foothills Art Center Members Show
Golden, CO
January-March 2022
NoBo Art District member show
Bus Stop Apartments Gallery
Boulder, CO
January, February 2022
Open Studios member show
Pop! Gallery
Boulder, CO
January 2022
Open Studios Pop! Gallery
Boulder, CO
November 2021 – January 2022
2021
Open Studios First Friday
Pop! Gallery
Boulder, CO
December 2021
Vibrant and Bold
R Gallery
Boulder, CO
October, November 2021
Open Studios Pop! Gallery
Boulder, CO
November 2021 – January 2022
Lost and Found
The Collective
Lafayette, CO
August 2021
Water, Water Everywhere
Colorado Mosaic Artists group show
The Collective
Lafayette, CO
July 2021
Creative Reuse
40 West Arts
Lakewood, CO
June 2021
The Power of Color
Colorado Mosaic Artists group show
Lakewood, CO
May 2021
2020
Featured Artist show
R Gallery
Boulder, CO
November, December 2020
The Stories We Tell
Colorado Mosaic Artists group show
Belmar Library
Lakewood, CO
November 2020
Nobo Art District First Friday
Boulder, CO
October 2020
Open Studios Golf and Art
Louisville, CO
October 2020
Open Studios member show
Boulder Museum of History
Boulder, CO
September 2020
Miniature
R Gallery
Boulder, CO
September 2020
Magic and Whimsy
Colorado Mosaic Artists
Children's Hospital
Aurora, CO
August/September 2020
Magic and Whimsy
Colorado Mosaic Artists group show
Children's Hospital
Aurora, CO
July-September 2020
Masters
Kanon Collective
Lakewood, CO
June, July 2020
2019
Winter's Beauty
R Gallery
Boulder, CO
December 2019
Origins
Colorado Mosaic Artists group show
First Congregational Church
Boulder, CO
November 2019
NoBo Art District 10th Anniversary show
First Congregational Church
Boulder, CO
September 2019
Lines
R Gallery
Boulder, CO
August, September 2019
Piece by Piece
Colorado Mosaic Artist group show
Lakewood Arts Council
Lakewood, CO
August 2019
ReLove
Colorado Mosaic Artists group show
Bricolage Gallery
Boulder, CO
July 2019
Celebrating Home
NoBo Art District at Thistle Housing
Boulder, CO
June-September 2019
Blossoms and Butterflies for the Gardens at Spring Creek
Carnegie Center for Creativity
Fort Collins, CO
June 2019
Buried Treasure
solo show
Lafayette Library
Lafayette, CO
May 2019
Altitudes
Colorado Mosaic Artists group show
40 West Arts
Lakewood, CO
April 2019
people's choice award
Boulder Artists Showcase
R Gallery
Boulder, CO
March, April 2019
ArtUp week First Friday
Carnegie Center for Creativity
Fort Collins, CO
February, March 2019
Creativity in Small Packages
Colorado Mosaic Artists group show
Lakewood Art Collective Acorn Gallery
Lakewood, CO
January 2019
^ top
2018
Peace (or maybe Piece?)
Colorado Mosaic Artists group show
Belmar Library
Lakewood, CO
November 2018
Colorado Mosaic Artists
Mosaic Perspectives
Frederic C. Hamilton Gallery
Children's Hospital
Aurora, CO
July, August, September 2018
Beginnings
The Muse
Lafayette, CO
July, August 2018
Blossoms and Butterflies
art show/auction for the Gardens at Spring Creek
Carnegie Center for Creativity
Fort Collins, CO
April 2018
NoBo Artists: Kitschy
Boulder Arts Week
Lucky's Cafe
Boulder, CO
March, April, May 2018
NoBo Artists
Winter Show II
First United Methodist Church
Boulder, CO
March, April 2018
Women's Art: A Persistent Path to Identity
The Collective
Lafayette, CO
February, March 2018
NoBo Artists
Annual Winter Show
First Congregational Church
Boulder, CO
February, March 2018
Colors of Humanity: Red
online exhibit
February 2018
Two of Hearts: show celebrating love
Las Lagunas
Laguna Beach, CA
February 2018
Colorado Mosaic Artists
Highlands Ranch Library
Highlands Ranch, CO
January, February 2018
Colorado Mosaic Artists
Fire, Earth, Air, Water
Loveland Museum & Gallery
January-May 2018
Sustainability: Masters of Materiality
ReCreative
Denver, CO
January 2018
2017
Bibelot: show celebrating small works
Kanon Collective
Denver, CO
December 2017
Celebrating Ocean Life
Location 1980
Costa Mesa, CA
September 2017
Colorado Mosaic Artists
Expressions in Creativity
Westminster City Hall
Westminster, CO
August-October 2017
Eco-Creations 8
art made from recycled materials and found objects
Longmont Arts Gallery
Longmont, CO
July, August 2017
Colorado Mosaic Artists
The Four Elements
Best of Show award
National Center for Atmospheric Research
Boulder, CO
April-June 2017
NoBo Artists
Collaboration: annual group show
Boulder Library
Boulder, CO
March 2017
Mosaic Trash Can Project consultant
Crawford Elementary School
Aurora, CO
March 2017
Cuisine
Linus Galleries
February 2017
2016
NoBo Artists Holiday Market
Boulder, CO
December 2016
Lincoln Center Holiday 100
juried holiday exhibit and sale
Fort Collins, CO
November, December 2016
Grande Petit Deux
Core Gallery
juried exhibit celebrating small works
Denver, CO
November 2016
Colorado Mosaic Artists
Belmar Library group show
Lakewood, CO
November 2016
NoBo Artists
8×8 or smaller show
Heart of Stone, mosaic garden rock, sold
Arts and Crafts Gallery
Boulder, CO
August 2016
Elements of the Feminine
group exhibit celebrating found, recycled objects
Art Parts Bricolage Gallery
Boulder, CO
July, August 2016
Musical Conversations/Painted Sound
Thornton Arts, Sciences and Humanities Council exhibit
Oz Gallery
Thornton, CO
June, July 2016
Maker-in-Residence
Louisville Library Makerspace
Louisville, CO
June 2016
Art of the Mind
juried exhibit promoting awareness of mental health (piece sold)
40 West Arts
Lakewood, CO
May 2016
Mosaic Mastery
Colorado Mosaic Artists group show
R2 Studio & Gallery
Denver, CO
April 2016
EcoCreations 7
juried exhibit of art made from recycled materials and found objects
Arts Longmont Gallery
Longmont, CO
March, April 2016
Shades of Red
NoBo Art District annual group show
First Congregational Church
Boulder, Colorado
February, March 2016
Dark Heart
juried exhibit celebrating the dark side of love
3 pieces accepted
Kanon Collective
Denver, Colorado
February 2016
Amorcito Corazon
open exhibit celebrating hearts and love
CHAC Chicano Humanities and Arts Council
Denver, Colorado
February 2016
Colors of Humanity Art Gallery
juried online Red show
2 pieces accepted
Colors of Humanity Art Gallery website
February 2016
2015
Lakewood Arts Council Pop Up Art Show and Sale
invited 40 West artist
Peeble's Prosthetics
Lakewood, Colorado
December 2015
Black & White & Metal
juried exhibit celebrating a monochromatic palette
2 pieces accepted
40 West Arts
Lakewood, Colorado
December 2015
Bibelot Show
juried exhibit celebrating small works
Kanon Collective
Denver, Colorado
November 2015
Assemblage
Colorado Mosaic Artists group show
PACE Art Galleries
Parker, Colorado
September-November 2015
Lit from Within
lighted art exhibit
in conjunction with 3rd annual
Lafayette Lantern Walk
East Simpson Coffee Company
Lafayette, Colorado
September, October 2015
Pieced Together
NoBo Art District 3 person show
First Congregational Church
Boulder, Colorado
summer 2015
Wonders of Nature
4th annual INSPIRE show juried exhibit celebrating the natural world
40 West Arts
Lakewood, Colorado
June, July 2015
EcoCreations 6
juried exhibit of art made from recycled materials and found objects
2 pieces accepted
Muse Gallery
Longmont, Colorado
March, April 2015
Bits & Pieces
Colorado Mosaic Artists group show
Westminster City Hall
Westminster, Colorado
March, April 2015
NoBo Art District annual RED group show
First Congregational Church
Boulder, Colorado
February, March 2015
2014
Artists Association of Northern Colorado
juried online art competition and exhibit
Artist Association website
December 2014, honorable mention award
3DArt Takes Miami
live and online art show
SCOPE Art Miami
Miami Beach, Florida
December 2014
Colorado Mosaic Artists group show
Belmar Library
Lakewood, Colorado
December 2014
Colorado Mosaic Artists group show
Hamilton Gallery
Children's Hospital
Aurora, Colorado
November, December 2014
Colorado Mosaic Artists pro bono project
"Bubble Hunt" group mural installation
Children's Hospital
Aurora, Colorado
November 2014
Farm to Table
juried exhibit
40 West Arts
Lakewood, Colorado
October, November 2014, honorable mention award
Colorado Mosaic Artists group show
Broomfield Auditorium gallery
Broomfield, Colorado
September 2014
Metropolis
juried exhibit celebrating all things urban
Kanon Collective
Denver, Colorado
August 2014, honorable mention award
Bloomin' Arts
public art garden planter exhibit and fundraiser
Daily Camera Article
Twenty Ninth Street mall
Boulder, Colorado
summer 2014
NoBo First Friday
exhibiting artist
Studio 1510
Boulder, Colorado
August 2014
Reclamation: Artists Modifying Debris
12th annual juried sculpture exhibit
Lakewood Cultural Center
Lakewood, Colorado
June, July, August 2014
Solo Mosaic Show
Lafayette Library
Lafayette, Colorado
June, July 2014
Rolling Route 40: The Hubcap Art Show
40 West Arts
Lakewood, Colorado
June 2014, award of excellence
South Westminster Arts Group
Re Show
juried exhibit of reclaimed and recycled artwork
Rodeo Market Gallery
Westminster, Colorado
April 2014
Boulder Arts Week
ReSource exhibit of art with recycled materials
Boulder, Colorado
March, April 2014
EcoCreations 5
juried exhibit of art made from recycled materials and found objects
Muse Gallery
Longmont, Colorado
March, April 2014
RED, ROUGE, ROJO
NoBo Art District Group Exhibition
First Congregational Church
Boulder, Colorado
February, March 2014
2013 + Earlier
NoBo Art District First Friday
guest artist
In Season Local Market
Boulder, Colorado
December 2013
Cutting Edges
Rocky Mountain Regional Mosaic Exhibit
juried fine art mosaics
Lakewood Cultural Center
Lakewood, Colorado
fall 2013
Open Space and Mountain Parks
Art Inspired by the Land
Boulder Public Library
Boulder, Colorado
summer 2013
Solo Mosaic Show
Dazzle Jazz and Supper Club
Denver, Colorado
March 2013
Feast of Mysteries: Group Art Show
Soul Tree Studio
Lafayette, Colorado
fall 2012
Bold Doors community wide sustainable art exhibit and auction
Boulder, Colorado
summer 2012
Boulder Museum of Contemporary Art (BMoCA)
Open Wall community exhibit and silent auction
Boulder, Colorado
2013, 2012, 2011, 2010, 2009
Kaleidoscope: New Artists Juried Group Show
at First Congregational Church
Boulder, Colorado
summer 2011
Mile High Music Festival
exhibit art guitars for Intents Atmospheres
Denver, Colorado
summer 2010
Lafayette Juried Community Art Show
Lafayette, Colorado
spring 2013 2nd place mixed media
spring 2009, 2008, 2007